AI Screening and Matching
30 Aug 2023

1 Minute to read
AI Screening and Matching
Updated on 30 Aug 2023

1 Minute to read
---
Share feedback
Thanks for sharing your feedback!
Talenteria offers a comprehensive suite of AI tools to streamline your recruitment process, including Candidate Scoring, Screening, and Matching features. These functionalities empower you to assess candidate suitability efficiently and make informed hiring decisions. In this guide, we'll explore how to leverage these features effectively to identify and recommend the best candidates for your job openings.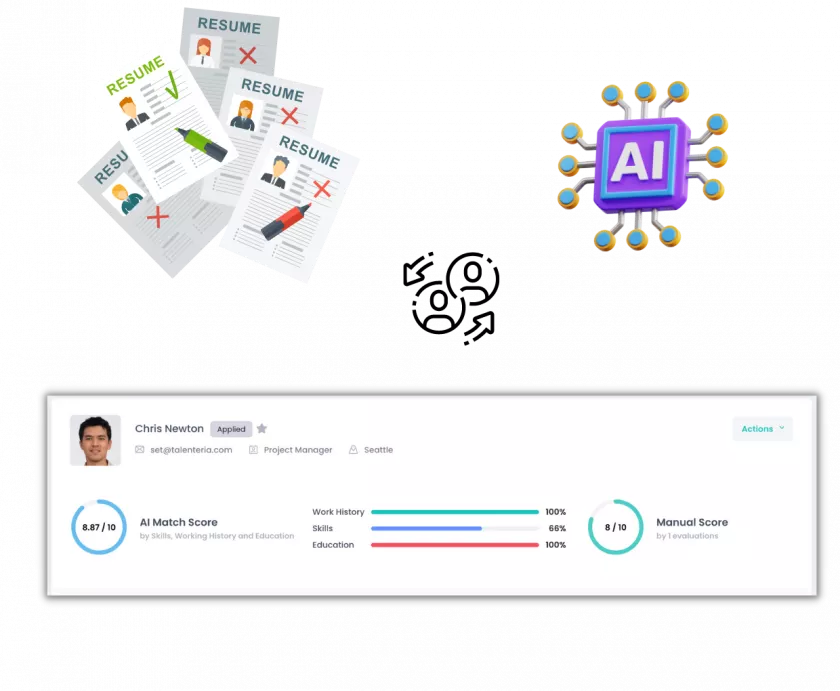 Scoring Candidates by Experience, Education, and Skills
Scoring Candidates by Screening Questions
Matching and Recommending Candidates for a Job
Benefits of Candidate Scoring, Screening, and Matching
Efficiency: Streamline candidate evaluation, categorization, and recommendation processes.
Consistency: Ensure uniformity in candidate assessment and selection across different recruiters.
Informed Decisions: Make data-driven decisions based on scores, responses, and matching percentages.
Time Savings: Automate time-consuming tasks, enabling focus on strategic aspects of recruitment.
Enhanced Quality: Identify top candidates who are most likely to excel in the role.
In conclusion, Talenteria's Candidate Scoring, Screening, and Matching features empower you to efficiently evaluate candidates, objectively screen them, and pinpoint the best matches for your job openings. By leveraging these functionalities, you can enhance your recruitment process, make better-informed decisions, and optimize your candidate selections.
---
What's Next