Messaging and Emails
27 Aug 2023

1 Minute to read
Messaging and Emails
Updated on 27 Aug 2023

1 Minute to read
---
Share feedback
Thanks for sharing your feedback!
Talenteria Messaging is an all-in-one solution for efficient and effective candidate communication. Whether you need to send emails to candidates, utilize the built-in messenger, leverage AI to craft compelling emails, access email templates, or review your email history, Talenteria Messaging has you covered. In this article, we'll explore the key features and benefits of Talenteria Messaging to help you streamline your candidate communication.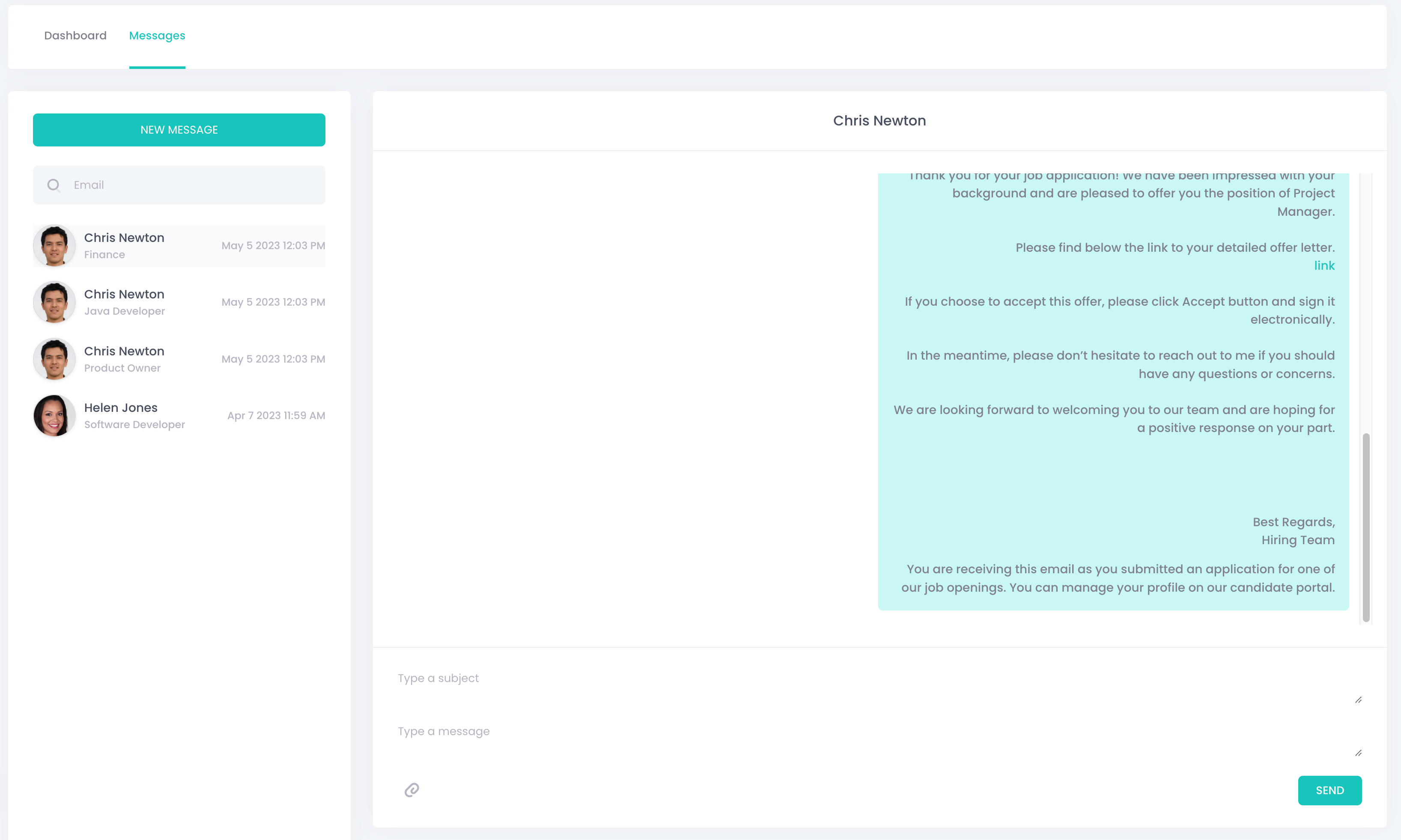 Sending Emails to Candidates
Sending emails to candidates has never been easier. With Talenteria Messaging, you can effortlessly compose and send emails to individual candidates or entire candidate pools. This feature is particularly useful for sending interview invitations, updates on application status, or any other communication during the recruitment process.
Built-in Messenger
Stay connected with candidates in real-time using the built-in messenger. This instant messaging feature allows you to have seamless and asynchronous conversations with candidates. You can address their questions, provide information about your company, and keep them engaged throughout the recruitment journey.
Writing Emails with AI
Crafting personalized and compelling emails is a breeze with the power of AI. Talenteria Messaging's AI-driven email composition tool helps you write emails that resonate with candidates. It can suggest content, tone, and even subject lines to ensure your messages are engaging and effective.
Email Templates
Save time and maintain consistency in your candidate communication by using email templates. Talenteria Messaging provides a library of customizable templates for common recruitment scenarios. Whether you're sending a rejection email, interview confirmation, or follow-up message, you can choose from pre-designed templates and tailor them to your specific needs.
Email History
Keeping track of your candidate communication is essential for a well-organized recruitment process. Talenteria Messaging offers a comprehensive email history feature that allows you to review all previous communications with candidates. This feature is invaluable for maintaining a clear record of interactions, ensuring you're always informed about the status of each candidate.
In conclusion, Talenteria Messaging empowers you to communicate with candidates more efficiently and effectively throughout the recruitment process. Whether you need to send emails, chat in real-time, harness AI for email composition, access templates, or maintain a complete email history, Talenteria Messaging has the tools to streamline your candidate communication, saving you time and ensuring a positive candidate experience.
---
What's Next